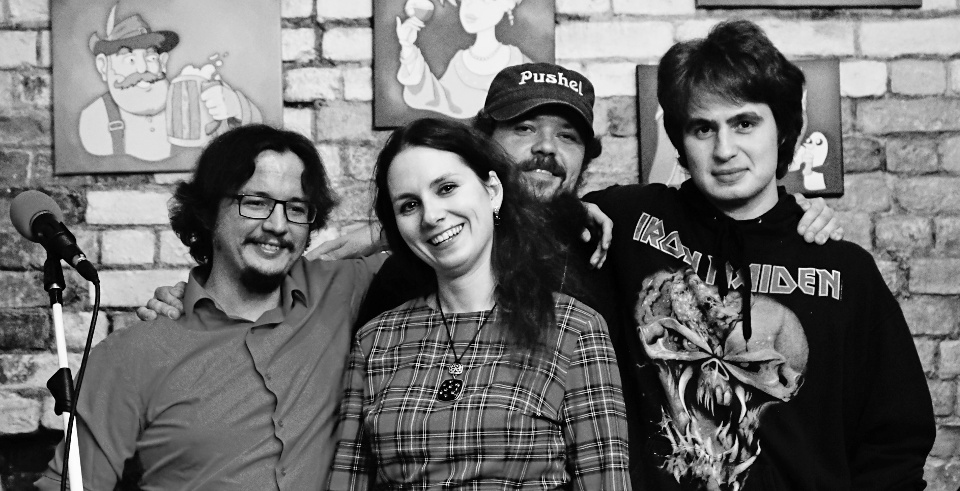 Short description
Waking Dream is a Russian rock band formed in Moscow in 2012 by guitarist Aleksandr Imaykin and singer Olga Karbusheva. Now its line-up contains two more guitar players - Aleksandr Kislyakov and Mikhail Romanov.

Their music represents a mixture of different rock styles - heavy metal, punk, rock'n'roll with elements of ska, pop and disco. Main musical influences include Iron Maiden, Judas Priest, Nightwish, Ramones, Toy Dolls and Metallica.

The band has four releases so far and performs live as an acoustic quartet.
Current members
Olga Karbusheva - vocal
Aleksandr Imaykin - guitar
Mikhail Romanov - guitar
Aleksandr Kislyakov - guitar
Past members
Kirill Ustinov - keyboards (2013-2015)
Discography
Castle of Fear (2016) - Four-song EP
A Step Aside (2015) - Full-length acoustic album
Laugh at First Sight (2013) - First full-length album
Out of the Blue (2013) - A collection of various songs
Biography
Waking Dream is a Russian rock band formed in 2012 by guitar player Aleksandr Imaykin and singer Olga Karbusheva who left their previous punk act Hamster Attack due to the dissatisfaction with the musical direction the band took and decided to go on their own musical journey.

They started performing as an acoustic duo and began working on their first full-length album in their home recording studio. In the spring of 2013 the results of their efforts were presented to their public as "Laugh at First Sight" album. It was produced by the guitar player of the cult band "Kuwalda" Ivan Alyoshin who happened to live nearby. That very same spring a keyboard player Kirill Ustinov visited one of Waking Dream shows and was so impressed that asked if he could join the band. After some probation period, he got the gig and the band played several shows as a trio.

In the autumn of 2013 Waking Dream remastered six early demos that were recorded in 2011 by Aleksandr and Olga while they still were in Hamster Attack. They also recorded a cover of Misfits classic "Skulls", added a demo of a song "Piter" also from the Hamster Attack era and released all this as a compilation "Out of the Blue".

In order to capture the way Waking Dream performed songs live the trio started working on their acoustic album in the beginning of 2014. Also, at that time a demo of their song "Piter" co-written with Dmitry "Kompot" Kiselev has scored the third place in the Hard Rock nomination of Generation Torrent 2014 song contest held by rutracker.org

The work on the album continued all through the year with occasional live shows and the album "A Step Aside" saw the light in the February 2015. Meanwhile a guitar player and singer Aleksandr Kislyakov joined the band after seeing them live and deciding that without him the band was incomplete.

The band actively performed live in the spring of 2015 in small clubs and at local festivals culminating in their first ever solo show in Arheologiya club in Moscow which went down a storm. In July 2015 Waking Dream uploaded a video of them performing classic punk ballad "Solidarity" by Angelic Upstarts on YouTube and got an approval from the author of the song himself – Thomas "Mensi" Mensforth found that video and shared it on his facebook page with some complementary comments.

In June 2015 Kirill Ustinov suddenly announced his departure from the band, but a replacement was quickly found – a talented guitar player Mikhail Romanov was eager to join.

In november-december 2015 the band goes on a small successful tour across several cities of Moscow Region, plays a big solo show in Moscow and performs at a charity concert in donor department of haematological scientific center.

On the 13th of March 2016 Waking Dream band releases their new EP "Castle of Fear" that contains four fast and heavy, but melodic songs.